Valentine's Day Gift Ideas for Your Special Someone
Valentine's Day Gift Ideas online
Valentine's Day – a day dedicated to love by lovers all over the world. Usually, people wait for this day to propose their love which gives a higher success rate. This special day also considered as a best choice for baby love, a day to propose the first love!
Black Tulip Flowers makes Valentine's Day Gifts Online Qatar an easy task.
Valentine Week Days
Valentine's Day is celebrated as a Valentine week from 7th Feb, a week before 14th February and each day has a special name.
7th Feb – Rose Day, 8th Feb – Propose Day, 9th Feb – Chocolate Day, 10th Feb – Teddy Day, 11th Feb – Promise Day, 12th Feb – Hug Day, 13th Feb – Kiss Day and 14th Feb – Valentine's Day.
Valentine's Day Gift Ideas
Gifts make any occasion more special which makes the receiver feel the emotion of the sender. Gifting someone flowers was never just a gift – it's a passing or expression of emotions.
Flowers are the most sorted after Valentine's Day gift online.
Here are some flower gift ideas
Rose
The first flower choice for a Valentine's Day gift is Rose which comes in different colours and each colour has a special significance. We are happy to give you some tips to choose the best valentine gifts for her according to the colour.
Red Rose – Love
Orange Rose – a bouquet of orange roses will let the receiver know your passion and fascination for them.
Red and White rose bouquet, express that we are a great match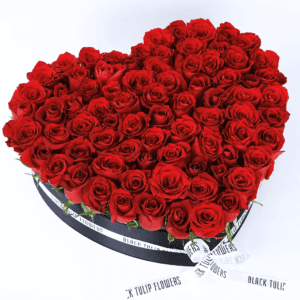 Red rose
The quintessential flower, the favorite flower Venus – the Roman Goddess of Love and Beauty, makes it the perfect blossom to be gifted to someone you love passionately.
The red rose is an indisputable first choice for lovers as it symbolizes love which is a truly romantic keepsake.
Other than roses, tulips takes the next place as the best choice as these stunners are a declaration of love.
The other traditional gifts apart from flowers are,
Cakes & Chocolates
Jewelry
Greeting Cards
Black Tulip Flowers has a variety of gift items to send online Valentine Gifts for Him Doha.
Cakes & Chocolates
o The second best gift for this Valentine's Day 2021 next to flowers are sweets which of course carries to sweetness into everyone.
o There are various cakes available like theme cakes, photo cakes, personalized cakes and more to choose from for Valentine's Day gift online.
Jewelry
o There are many affordable jewelry to be gifted as a most romantic gift ever for your valentine.
o Say it with the most loved gift and keep your love young and romantic!
Greeting Card
o In the most advanced technological world, the most trusted and traditional way of expressing emotion goes to the Greeting Cards.
o The emotions can be expressed in their own words which touches the heart of the receiver.
With flower delivery Qatar from Black Tulip Flowers, make your valentine feel your love and how special they are for you.
Visit us online to know our full product range and gift collection for Valentine's Day
Best Valentine Gift For Boyfriend
Choosing the best Valentine's Day gift for your boyfriend can depend on his personal preferences and interests. Here are some ideas that might help you find the perfect gift:
Flowers: Flower are the best option to express your love with Valentine's day Flowers on this special day.
Personalized Gifts: Consider a personalized item, such as a customized photo album, engraved watch, or personalized keychain. These gifts show thoughtfulness and can be cherished for years to come.
Experience or Activity: Plan a special experience or activity that you can enjoy together. It could be a romantic dinner at his favorite restaurant, tickets to a concert or sporting event he likes, or a weekend getaway.
Tech Gadgets: If your boyfriend is into technology, consider getting him a new gadget or accessory that he's been eyeing. It could be the latest smartphone, smartwatch, wireless headphones, or a gaming console.
Subscription Box: Subscription boxes are a popular gift idea. You can choose a subscription box that aligns with his interests, whether it's a grooming kit, a monthly book subscription, a craft beer sampler, or a fitness-focused box.
Personalized Clothing or Accessories: A customized piece of clothing, such as a monogrammed hoodie or a personalized leather wallet, can be a stylish and sentimental gift that he'll appreciate.
DIY Gifts: If you enjoy crafting, consider making a DIY gift that is meaningful to your relationship. It could be a scrapbook, a hand-knit scarf, or a heartfelt love letter expressing your feelings.
Hobby-related Gifts: Consider his hobbies and get him something related to his interests. For example, if he enjoys cooking, you could get him a new set of kitchen utensils or a cookbook from his favorite chef.
Romantic Gestures: Sometimes the best gifts are acts of love. Plan a surprise date night, write him love notes to be opened throughout the day, or create a romantic scavenger hunt leading to a special gift or surprise.
Best Valentine Gift For Girlfriend
Choosing the best Valentine's Day gift for your girlfriend can be a wonderful way to show your love and appreciation. Here are some ideas to help you find the perfect gift for her:
Flower For Valentine's: Gifting flowers on Valentine's Day to your girlfriend is the first and best choice ever.
Jewelry: Consider a piece of jewelry that suits her style and personality. It could be a necklace, bracelet, earrings, or a personalized piece engraved with her initials or a special message.
Spa or Pampering Gift: Treat your girlfriend to a relaxing and indulgent spa experience. You can book a couples' spa day or give her a gift certificate for a massage, facial, or manicure/pedicure.
Romantic Getaway: Plan a surprise weekend getaway or a romantic trip together. It could be a cozy cabin retreat, a beach vacation, or exploring a new city. The experience of traveling and creating memories together can be a memorable gift.
Personalized Gifts: Consider personalized gifts that show thoughtfulness and make her feel special. This could include a custom photo album, personalized name necklace, monogrammed tote bag, or a customized piece of artwork.
Perfume or Fragrance: Choose a fragrance that she loves or surprise her with a new signature scent. Perfume can be a romantic and intimate gift that she can enjoy every day.
Thoughtful Gesture: Sometimes, the most meaningful gifts are acts of love. Plan a romantic candlelit dinner at home, write her a heartfelt love letter, or create a scrapbook filled with cherished memories of your relationship.
Subscription Box: Subscription boxes are a fun and ongoing gift. You can choose a subscription box that aligns with her interests, such as a beauty box, a monthly book subscription, a wellness box, or a gourmet food box.
Experience or Class: Consider an experience or class that aligns with her interests or hobbies. It could be a cooking class, a painting workshop, a dance lesson, or a yoga retreat. This gift allows her to explore new passions or enhance existing ones.
Stay upto date with our deal and discount on social media.