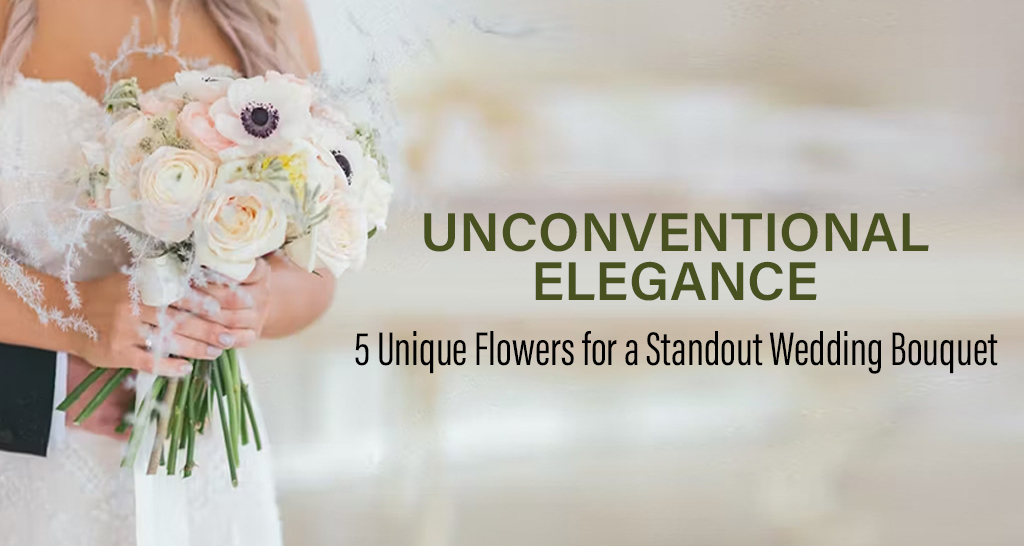 Title: Unconventional Elegance: 5 Unique Flowers for a Standout Wedding Bouquet
Embracing a Natural Aesthetic in Your Wedding Bouquet
A wedding day is a celebration of Love, and what better way to honour that Love than by embracing the natural beauty of the world around us? Suppose you're a bride or groom-to-be who appreciates the simple elegance of nature. Incorporating a natural aesthetic into your wedding bouquet in Qatar might be the perfect choice. In this enchanting journey through the world of wedding florals, we'll explore the art of creating a wedding bouquet that harmonizes with the wonders of the great outdoors. So, if you're dreaming of a unique wedding bouquet that exudes rustic elegance, embodies eco-consciousness, and captures the essence of a natural wonderland, let's uncover the secrets to "Embracing a Natural Aesthetic in Your Wedding Bouquet."
Anemones: The Epitome of Grace and Mystery in Your Wedding Bouquet
Anemone flowers, with their delicate petals and striking dark centers, have long been celebrated for their graceful and enigmatic charm. In the world of wedding bouquets, these blossoms hold an unique place, offering an oustanding blend of beauty and symbolism that can elevate your bridal ensemble to a new level of elegance. Whether you're planning a traditional wedding or a more contemporary affair, anemones can add a touch of sophistication and allure that's hard to match. So, unravel the grace and mystery of anemones and discover how they can become the centrepiece of your standout wedding bouquet.
Dahlias: Unveiling the Bold and Brilliant Blossoms for Your Wedding Bouquet
Dahlias, with their striking hues and intricate petal patterns, are the embodiment of boldness and brilliance in the world of flowers. They are a symbol of strength and resilience and have a long history of being used in various cultures and traditions. Dahlias are also a popular choice for weddings and events, adding a touch of elegance and sophistication. These remarkable blooms have the power to transform an ordinary wedding bouquet into a vibrant work of art that captures attention and radiates personality. Dahlias are like giant paintbrushes, painting a landscape of beauty with their vibrant colours and intricate details. Their presence will make any event come alive and create a magical atmosphere that will last a lifetime.
Succulents: Embracing Modern Elegance and Timeless Longevity in Your Wedding Bouquet
With their contemporary charm and remarkable durability, succulents have emerged as a fresh and stylish choice for modern brides. Succulents are a unique way to add a touch of green and texture to a wedding bouquet. They can also be used to create a variety of stunning centrepieces, table arrangements, and other decorations. Succulents are also an affordable and low-maintenance option for wedding décor. These resilient and uniquely shaped plants bring an unexpected element of sophistication to wedding bouquets, ensuring that your floral ensemble remains as vibrant as your Love throughout your special day.
Protea: Captivating Exotic Beauty for Unforgettable Destination Wedding Bouquets
Protea flowers are known for their unique and beautiful shape, making them an ideal choice for a destination wedding bouquet. They come in a variety of colors and shapes and are perfect for adding a touch of whimsy to any wedding. Proteas are also versatile; they can be dried and used as decorations after the event. They also make excellent gifts for guests. Proteas are like little pieces of art, with intricate designs and bold colours. They are like a painting come to life, adding a touch of magic to your special day. Proteas are an excellent choice for weddings because of their unique beauty, versatility, and affordability. They are the perfect addition to any destination wedding bouquet in Qatar.
Wildflowers: Embracing Rustic Charm for the Perfect Boho-Chic Wedding Bouquet
Wildflowers, with their untamed beauty and natural allure, are the quintessential choice for couples looking to capture the essence of boho-chic style in their dreamy wedding bouquet in Qatar. Wildflower bouquets are popular for brides and grooms who want a natural and rustic look for their wedding. They add a unique touch to your big day and make a beautiful statement. Additionally, wildflowers are eco-friendly and sustainable, making them an excellent choice for environmentally conscious couples. These effortlessly charming blossoms bring a touch of rustic elegance to your special day, creating a bouquet that is both romantic and free-spirited.
Conclusion: Making Your Bouquet Uniquely Yours
The bouquet you choose can even be made more personal by adding a few personal touches. You can add a special card or a note with a meaningful message. You can also include a few of the Preserved flowers in the wedding bouquets. You can also add a small gift, such as a small box of chocolates or some beautiful gems or pearls. Or you could include a small gift that symbolizes your relationship, such as a small piece of jewellery or a book. Finally, you can add a unique charm or a small souvenir to make it extra special. Consider including meaningful items or colours that represent your special moment or sentiment. You can also include notes of appreciation or Love.
Wedding Flower Delivery Services Across Qatar – Order Online Now
Passionate florists crafting your dream wedding bouquets with Love. It's like a sculptor crafting a beautiful sculpture out of marble, carefully crafting each piece to create something unique and special. Our florists have over 30 years of experience in creating stunning floral arrangements for weddings. We will work with you to create the perfect bouquet for your special day. We guarantee that your wedding bouquet will be beautiful and memorable. Are you worried about where to buy wedding gifts in Qatar? Order Your Wedding Flowers from Black Tulip Flower, Qatar. Explore Online, Same-Day, and Midnight Delivery Options.