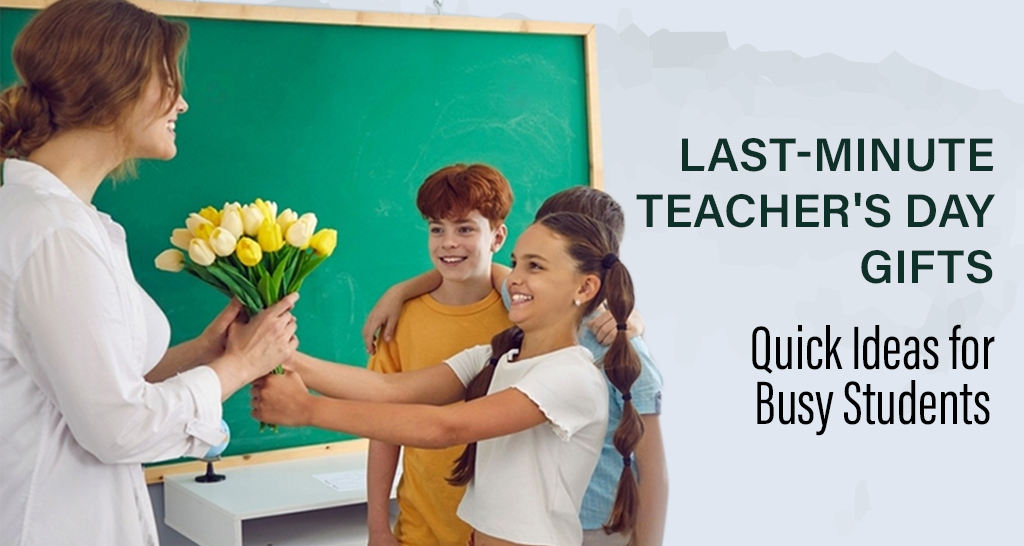 Last-Minute Teacher's Day Gifts: Quick Ideas for Busy Students
Petals of Appreciation: The Significance of Teacher's Day Flowers
Teacher's day holds significant importance in Qatar, as it does in many countries worldwide. The celebration of Teacher's Day is an opportunity to recognize the teachers who nurture the students and develop them into better people for the future. It is a day to express gratitude and appreciation for the teachers' hard work and dedication. It is also a day to remember the teachers who have shaped our lives and taught us valuable lessons. Teacher's Day in Qatar is typically celebrated on October 5th each year, and its importance can be understood in many contexts. Since 1994, the world has observed World Teachers' Day annually. This international day commemorates the endorsement, in 1966, of the recommendation by the United Nations Educational, Scientific and Cultural Organization (UNESCO) and the International Labour Organization regarding the status of teachers. The primary purpose of this blog is to provide valuable guidance to busy students who find themselves in a last-minute scramble to express their appreciation on Teacher's Day. In the hustle and bustle of student life, it's not uncommon for the significance of this day to sneak up on us, leaving us with limited time to prepare. By presenting a range of thoughtful Teacher's Day Gifts in Qatar that can be put together in a pinch, we hope to empower students to show their gratitude and make their teachers feel truly special on this important occasion by sending Teacher's Day flowers and gifts. Whether it's a heartfelt note or a small token of appreciation, our goal is to ensure that every teacher receives the recognition they deserve on Teacher's Day.
Blossoms and Words: The Perfect Pairing for Teacher's Day
In celebrating Teacher's Day, the fusion of nature's beauty and the heartfelt sentiments expressed through handwritten notes creates a remarkable synergy. Just like a teacher nourishes the minds of students, flowers infuse spaces with vibrant energy and a touch of elegance. Nature's beauty serves as a reminder of the timeless wisdom that teachers possess, and flower arrangements are the perfect way to express your appreciation for teachers. These gestures of gratitude are the perfect way to show teachers how much they are valued and admired. These blooms symbolize appreciation, growth, and the gratitude we feel for our educators. Paired with thoughtful handwritten notes, they become a profound expression of our admiration and respect. The delicate fragrance of flowers and the sincere words written from the heart combine to create the best Teacher's Day Gifts in Qatar that resonates deeply with teachers, reminding them of the lasting impact they have on their students' lives. Blossoms and words encapsulate the essence of gratitude and warmth. As we celebrate this special day, let us extend our heartfelt greetings to our mentors in Qatar with a simple yet powerful message: "Happy Teacher's Day with Flowers".
Expressing Gratitude in the Digital Age: E-cards, Emails, and Social Media Appreciation
In the age of digital communication, the celebration of "Teacher's Day in Qatar 2023" has evolved and embraced the advancements in technology. With the emergence of digital platforms and communication tools, expressing appreciation for teachers has taken on a new dimension. Customized e-cards, for instance, offer a creative canvas to express your gratitude visually appealingly. These digital creations can be personalized with messages and designs that resonate with your teacher's personality and teaching style, making them feel truly special. Sending a heartfelt email is another meaningful gesture, as it allows you to pour your appreciation into words, reflecting on your teacher's positive impact on your life. It's a direct and personal way to express your gratitude. By sharing stories and memories, you can create a heartfelt tribute that showcases the profound influence your teacher has had on both you and the community. Digital appreciation methods enable us to bridge distances and celebrate our teachers in a modern, heartfelt, and inclusive way. You can also order and send flowers, gifts and chocolates for Teacher's Day with fast delivery from Black Tulip Flower, Qatar.
Potted Plants: The Perfect Gift for Teachers' Day
Gifting potted plants or flowers on Teacher's Day is a delightful choice, symbolizing both growth and appreciation in a meaningful way. Just as teachers nurture the minds of their students, these living gifts symbolize growth, care, and the lasting impact of education. Opting for low-maintenance plant options ensures that even those with busy schedules can keep the gift flourishing. It's a reminder that the lessons learned from a teacher continue to thrive. To present these plants attractively, consider thoughtful teacher's day flower arrangements, decorative pots, or even a handwritten message that adds a personal touch. These teacher's day gifts bring a touch of nature indoors and serve as a beautiful reminder of the nurturing and growing relationship between teachers and students.
Promotion of Qatar National Vision 2030
Qatar's National Vision 2030 places significant emphasis on human development and education as foundational pillars for the nation's sustainable growth and advancement. Teacher's day perfectly aligns with this vision, underscoring the crucial role of well-educated and motivated teachers in realizing Qatar's long-term objectives. In Qatar, the celebrations of Teacher's Day hold deep cultural and social significance as they reaffirm the paramount importance of education and educators. These observances strengthen the cultural values and traditions associated with learning and showcase the profound respect and esteem that Qatari society holds for its teachers.
Crafting Gratitude: Personalizing Your Teacher's Day Bouquet
Personalizing your teacher's day flower bouquet for your teacher on Teacher's Day adds a heartfelt touch to the celebration. It's a meaningful way to express your gratitude and appreciation for the guidance and knowledge your teacher imparts. By creating something unique, be it a handwritten letter, a handmade card, or a personalized gift, you demonstrate the effort and thoughtfulness you've put into recognizing their hard work and dedication. This personal touch not only strengthens your bond with your teacher but also conveys the message that their influence and teachings have made a profound impact on your life. In essence, personalization transforms a simple gesture into a lasting memory that celebrates the special connection between teacher and student.
Conclusion
The celebration of Teacher's Day offers us a meaningful opportunity to express our appreciation for the educators who shape the lives of so many. Even amidst the hectic pace of academic commitments, last-minute Teacher's Day gifts can carry profound significance. Whether through heartfelt handwritten notes, digital tokens of appreciation, practical classroom supplies, homemade treats, potted plants, or gift cards, there is an array of thoughtful ways to convey gratitude. These quick but heartfelt ideas ensure that, regardless of your busy schedule, you can make your teacher's day truly special. Ultimately, it's not the extravagance of the gift but the authenticity of your appreciation that matters most. So, take a moment to recognize the dedication and hard work of your teachers, and let this Teacher's Day be a memorable and cherished occasion for both you and them. And if you're in Qatar, consider Black Tulip Flowers for the finest Teacher's Day flowers and gifts to make the celebration even more special.