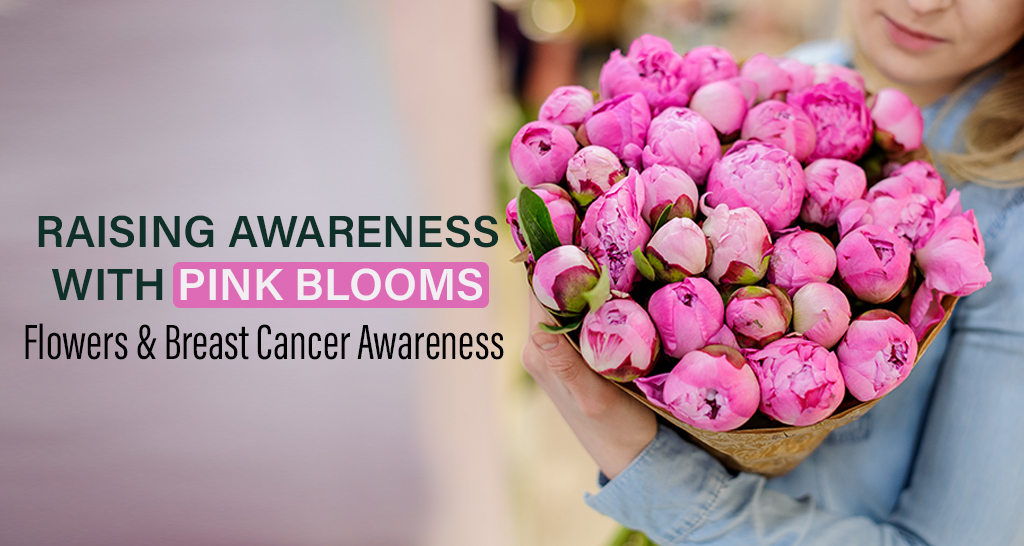 Raising Awareness with Pink Blooms: Flowers and Breast Cancer Awareness
Blossoming Hope: Breast Cancer Awareness Flowers and Gifts
Breast cancer is more than a disease; it's a battle fought by countless individuals and their families. Awareness is the first step toward prevention, early detection, and, ultimately, finding a cure. Breast cancer awareness has become a worldwide campaign, bringing people together to learn, share, and support each other. The importance of this awareness cannot be overstated, as it saves lives, provides comfort to those affected, and fuels research to one day eradicate this insidious illness. In this blog, we'll explore the role that pink blooms play in this mission and how they've become synonymous with hope, unity, and the fight against breast cancer. Sending breast cancer awareness flowers to your loved ones in the midst of their battle against this disease will forever hold a cherished spot in their hearts.
The Origins of Pink as the Symbol for Breast Cancer Awareness
The history of pink as the symbol for breast cancer awareness is a tale of compassion, determination, and a collective desire for change. This emblematic colour found its roots in the early 1990s when the Susan G. Komen for the Cure Foundation, a prominent breast cancer organization, distributed pink ribbons at their events. The pink ribbon, a simple yet powerful symbol, was initially handed out to runners in the 1991 New York City Race for the Cure, sparking a movement that would grow beyond anyone's imagination. Over time, the pink ribbon and pink flowers became universally recognized as a symbol of breast cancer awareness. It's a testament to the idea that small gestures can lead to significant change. Symbolizing the ongoing fight against cancer, pink has today become synonymous with breast cancer awareness.
The Colour Pink Creates a Sense of Unity and Support
Emerging from the challenging journey of breast cancer survival, the month dedicated to Breast Cancer Awareness provides an opportunity to express support and encouragement through a touching gesture: pink ribbon-inspired flowers. It is often the vibrant pink roses that feature breast cancer awareness gifts and flowers to raise awareness for cancer patients. These roses don't just present a visually striking arrangement; they also bear profound symbolism to commemorate the courageous journey to overcome cancer. While the classic elegance of rose bouquets is timeless, there are numerous other captivating floral options in shades of pink and red. One such option is the azalea, a traditional emblem of womanhood in Chinese culture, which adds cultural significance to the message of support. Another delightful addition to breast cancer awareness floral arrangements is the carnation, which gracefully complements lush green foliage and ferns, creating a striking and harmonious ensemble.
The Symbolism of Flowers in the Fight Against Breast Cancer
Flowers have long been recognized for their therapeutic and healing properties. Their beauty and fragrance can provide comfort and tranquility to individuals facing the physical and emotional challenges of breast cancer. Cancer awareness Flowers and gifts in Qatar carry deep symbolic meanings that resonate with the breast cancer community. Their delicate petals represent fragility, while their resilience mirrors the strength of those battling the disease. Pink flowers symbolize hope, love, and the collective determination to find a cure. The act of presenting or receiving pink blooms is a gesture that acknowledges the struggles and triumphs of individuals affected by breast cancer. Within the realm of breast cancer awareness, flowers and gifts, certain pink flowers have become iconic symbols. Pink roses, for their timeless elegance, and pink carnations, for their simplicity and grace, are just a couple of examples. Besides adorning events and awareness campaigns, these blooms also serve as reminders and encouragements for breast cancer survivors. The role of flowers in breast cancer awareness is harnessed to express support, inspire hope, and unify people in their shared determination to conquer breast cancer.
Raising Awareness Through Cancer Awareness Flower Arrangements and Gifts
Creative Ideas for Crafting Breast Cancer Awareness Bouquets
Inspirational Arrangements: Design soothing cancer awareness bouquets featuring a variety of pink flowers, such as pink roses, carnations, and lilies, to symbolize hope, love, and resilience. Include green foliage and ferns to enhance the vibrancy of pink blooms.
Custom Ribbons and Tags: Attach pink ribbons or personalized awareness tags to your bouquets to reinforce the message of support for breast cancer awareness. These little touches make your arrangements more meaningful.
Pink-themed centerpieces: Use pink flower arrangements as centerpieces at awareness events or fundraisers. Combine them with pink tablecloths and decorations to create a visually impactful display.
Utilizing Pink Flowers in Gifting and Events to Promote Awareness
Gifts of Hope: Offer pink floral gifts to individuals undergoing breast cancer treatment or in celebration of their recovery. These gestures provide emotional support and inspire optimism.
Corporate Support: Encourage businesses to incorporate pink flower arrangements into their workplace decor during Breast Cancer Awareness Month. It's a way for companies to demonstrate their commitment to the cause.
Awareness Events: Organize or participate in awareness events, such as fundraisers and charity walks, where pink flowers play a central role. They can serve as tokens of appreciation for participants, adding a touch of elegance to the occasion.
Social Media Campaigns: Create social media campaigns featuring photos of pink flowers alongside inspiring messages about breast cancer awareness. Share these images during awareness months to engage a wider audience.
By embracing these creative ideas and incorporating pink flowers into cancer awareness gifts and events, you can play an active role in promoting breast cancer awareness. Whether you're expressing support for a loved one or participating in broader awareness initiatives, the vibrant presence of pink blooms can be a compelling symbol of hope and solidarity.
In the spirit of solidarity and compassion, contemplate sending pink flowers to someone you know who is confronting breast cancer. This simple yet deeply meaningful gesture can brighten their day and convey your genuine care. Whether it's a breast cancer awareness bouquet of pink roses, a potted pink plant, or even a single pink bloom, your act of kindness has the potential to offer comfort and inspire hope during this challenging period.
Empowering Change: The Significance of Pink Blooms in Breast Cancer Awareness
In conclusion, the role of pink flowers in the context of breast cancer awareness is undeniably profound. These fragile yet resilient flowers have evolved into iconic symbols of hope, courage, and unity in the ongoing struggle against breast cancer. Their vibrant hues and profound symbolism serve as constant reminders of the critical need for early detection, the unwavering support essential to this fight, and the ongoing research required to conquer this disease. Pink blooms pay homage to survivors, inspire those in the midst of their battle, and commemorate the memory of those we've lost. Their presence within the breast cancer awareness movement epitomizes the resilience of the human spirit, the collective dedication to finding a cure, and the boundless support that transcends borders and communities around the world.
During Breast Cancer Awareness Month this October, whether you wish to honour a survivor, express your gratitude, or offer sympathy to those impacted by breast cancer, our dedicated team of professional florists at Black Tulip Flowers, Qatar, is always there to assist you in choosing the most fitting Cancer awareness floral arrangements and gifts for cancer patients. We are committed to helping you convey your support, appreciation, and compassion through the language of flowers to those whose lives have been touched by this challenging journey.