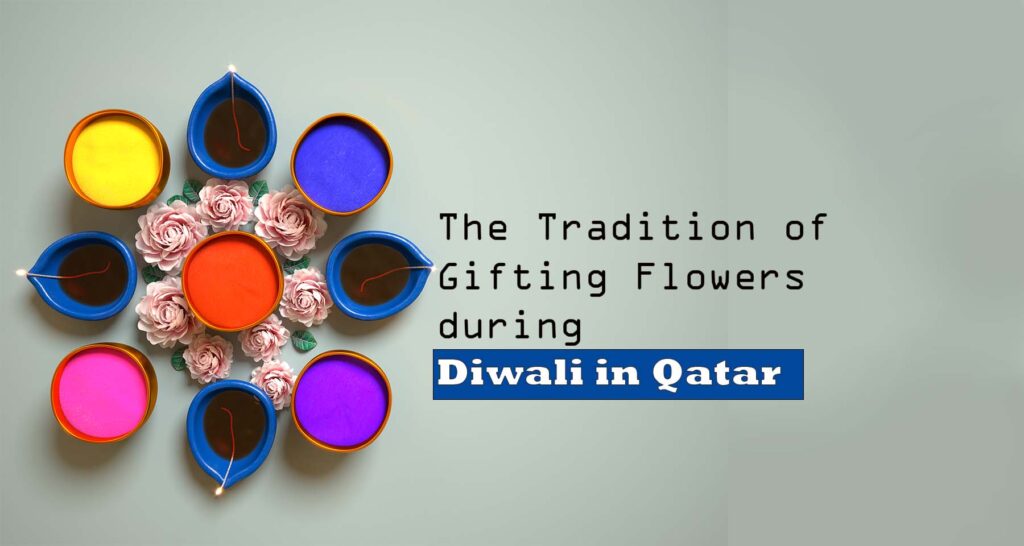 The Tradition of Gifting Flowers during Diwali in Qatar
A Glimpse into Diwali: Qatar's Festival of Happiness
Diwali, also known as the Festival of Lights, is a grand testament to the harmonious coexistence of various communities in the country. Families from diverse backgrounds unite to adorn their homes and public spaces with radiant oil lamps, ornate lanterns, and captivating online Diwali flower arrangements, forming an enchanting tapestry of colours and traditional Diwali gifts that brighten the night. The festival is marked by the exchange of sweets, the bursting of fireworks, and the performance of traditional dances and music that resonate with the spirit of Diwali.
As Qatar embraces this festival of happiness, it showcases its rich cultural tapestry and underscores the significance of togetherness and the triumph of light over darkness. Diwali in Qatar is a spectacle that bridges cultures and brings forth a sense of unity and shared happiness among its people, exemplifying the essence of this splendid festival in the heart of the Arabian Gulf. Black Tulip Flowers, Qatar, provides a wide range of delivery options, including same-day flower delivery, fixed time slots, and midnight surprises. This flexibility allows you to tailor your online Diwali gift delivery in Qatar to your loved ones' preferences, ensuring that your celebrations are exceptional and hassle-free.
Radiant Celebrations: Diwali Gifts in Qatar

Diwali, the Festival of Lights, is celebrated with great enthusiasm and cultural diversity in Qatar. This annual festival is a testament to the vibrant multiculturalism of the country. The celebration of Diwali is marked by the exchange of sweets and gifts among friends and family, symbolizing the spirit of sharing and generosity. Traditional Indian cuisine takes centre stage, with special dishes and sweets prepared for the occasion.
Cultural events and performances, including traditional dances and music, bring the essence of India to Qatar, fostering a sense of unity and togetherness. This festival acts as a bridge, connecting people from different backgrounds and cultures. The Diwali festivities in India are only truly fulfilled by exchanging cherished gifts with your loved ones. To guarantee that you're always full of gift choices, our online portal, in collaboration with our gift experts, has diligently curated an exceptional selection of Diwali gifts items, ensuring you have the very best options at your disposal.
Blossoming Multiculturalism: Diwali Celebrations with Flowers in Qatar

Multicultural Qatar embraces Diwali with flowers, celebrating diversity. Indian and South Asian communities adorn homes and public spaces with marigolds, roses, and local blooms, creating vibrant displays. The presence of flowers in Diwali celebrations in Qatar adds to the visual splendour. It symbolizes the beauty of diversity, making this festival a rich and inclusive cultural tapestry in the heart of the Arabian Peninsula.
Diwali flowers and gifts are the perfect way to add vibrancy to your neighbourhood and community. Furthermore, you'll be pleased to discover that we provide a seamless process for sending Diwali gift hampers. Don't hesitate; place your order for the finest Diwali flowers and online Diwali gift hampers today! Enhance your festivities with our hassle-free online Diwali flowers and gift hampers. Order today!
Petals of Tradition: Cultural and Historical Significance of Flowers in Diwali Celebrations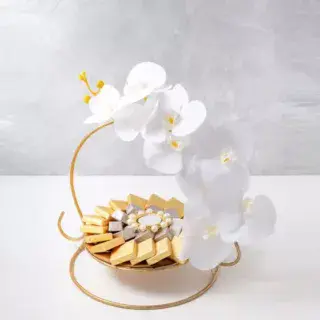 With roots in ancient Indian culture, flowers in Diwali celebrations extend beyond mere decoration. Diwali flowers symbolize purity, renewal, and the triumph of light over darkness. Discover these blossoms' rich history and cultural importance as they weave a colourful tapestry of tradition, spirituality, and unity during the Festival of Lights. Buy Online Diwali Flowers from Black Tulip Flowers Qatar and immerse yourself in flowers' cultural and historical significance during Diwali celebrations. Our exquisite blooms enhance the beauty of your festivities and symbolize this cherished festival's rich traditions.
Blossoms in Diwali: Ornamentation, Rangoli, and Sacred Offerings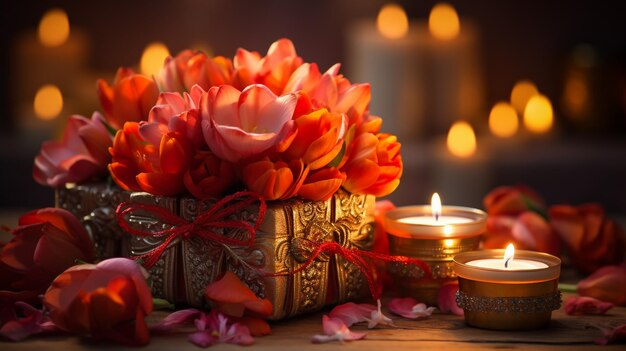 During Diwali, flowers play a multifaceted role in celebrations. You can conveniently purchase Diwali flowers and gifts online to enhance the festive spirit. Flowers are not only used for decoration, adorning homes and temples with vibrant blooms, but they also find a special place in the intricate art of rangoli, where they add a burst of colour and elegance to intricate designs. Moreover, flowers are significant in religious offerings, symbolizing purity and devotion as they are offered to deities during prayers and rituals. They infuse the atmosphere with fragrance and beauty, making them an integral part of Diwali festivities.
Festive Flourish: Flowers' Role in Diwali Celebration
Flowers play a significant role in expressing joy and warmth during Diwali, the festival of lights, which is one of the most widely celebrated festivals in India and among Indian communities around the world. Diwali is a time of great enthusiasm, and Diwali gifts and flowers are an essential part of the festive decor and rituals.
Decorations: During Diwali, homes come alive with colourful, fragrant flowers like garlands, rangoli, and floral arrangements, infusing warmth and festivity into the atmosphere.
Aroma: The scents of flowers like marigolds, roses, and jasmine enhance the Diwali sensory experience, creating a cosy, comforting ambience and elevating the festive spirit.
Rangoli: This Diwali tradition involves creating intricate floor designs using coloured powders, rice, and vibrant flower petals, symbolizing beauty, creativity, and a warm, festive welcome.
Gift Giving: Gift giving during Diwali often includes flowers. Bouquets and arrangements serve as tokens of love and appreciation, conveying warmth, happiness, and togetherness in the festive season.
Symbolism: In Indian culture, flowers hold symbolic meanings. For example, marigolds are associated with purity and prosperity, while roses symbolize love and devotion.
Spread Diwali Cheer with Diwali Gifts and Gourmet Delights!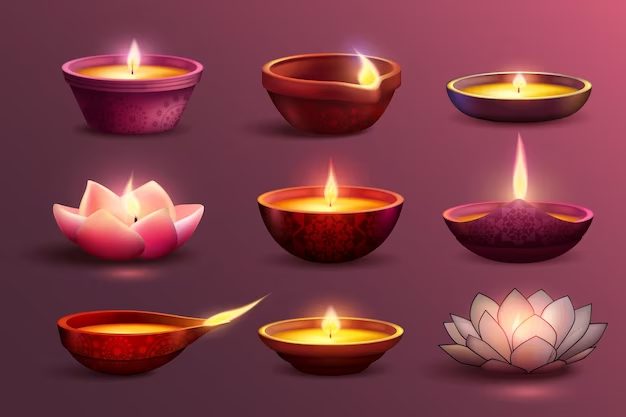 This Festival of Lights, show your love by sending heartfelt Diwali gifts online to your friends and family and extending warm holiday wishes. For festive décor, consider gifting flowers, the perfect touch to illuminate the celebrations. This gesture conveys your best wishes and symbolizes the warmth and togetherness that this special occasion represents.
Flowers infuse warmth and life into the surroundings, from the elaborate rangoli patterns that adorn the floors to the colourful garlands that decorate entrances and puja rooms. They carry a rich symbolism, with marigolds signifying purity and prosperity and roses expressing love and devotion. By sending these tokens of love and appreciation, you're not just acknowledging the significance of Diwali in their lives, but you're also participating in their joy.
Bridging the Distance for this Diwali: International Flower Delivery Services
Diwali is a time for families and loved ones to come together, celebrate, and create cherished memories. However, life's twists and turns sometimes mean that those we hold dear may be far away. In such moments, international Diwali flower delivery services become a heartwarming solution to bridge the geographical gaps and connect our hearts.
These services enable you to send your warmest Diwali wishes to family and friends living abroad, making them feel close even when they are miles away. By exploring the international flower delivery options available, you can choose from a vast array of beautiful floral arrangements and gifts to brighten the homes and hearts of your loved ones.
In an era of global connections, the ability to send flowers internationally not only fulfils a practical need but also enriches the emotional fabric of our relationships. So, this Diwali, explore the options of international flower delivery services and illuminate the lives of those you hold close, no matter where they are in the world. For instance, send Diwali gifts to India from Qatar, turning this Diwali into a delightful surprise for your loved ones in India.
Blossoming Tradition: The Significance of Gifting Flowers in Qatar during Diwali
In Qatar, Diwali is celebrated with the lively tradition of exchanging Diwali gifts among family and presenting flowers as Diwali gifts to friends. This time-honoured practice transcends cultural boundaries, symbolizing love, goodwill, and the spirit of togetherness. Whether it's the vivid marigolds representing prosperity or fragrant roses symbolizing affection, gifting Diwali flowers is a heartfelt expression of the warmth and well-wishes that define the festival. The exchange of these blossoms during Diwali in Qatar not only brightens homes but also strengthens the bonds of unity and harmony among people of different backgrounds. It is a tradition that continues to flourish, adding a touch of natural beauty to the Festival of Lights in this corner of the world.
Reiterate the warmth and joy that flowers bring to this beautiful festival.
The inclusion of flowers in this delightful festival exudes an undeniable sense of warmth and joy. Their vibrant colours and enchanting fragrances infuse every corner with celebration and togetherness. Whether they adorn homes, rituals, or heartfelt gifts, flowers embody the spirit of Diwali, radiating happiness and a shared sense of community.
In their delicate beauty, flowers capture the essence of the Festival of Lights, enriching the experience and spreading happiness throughout the festivities. Diwali in Qatar transcends borders and exemplifies the country's commitment to diversity and cultural inclusivity. It is a time when the people of Qatar, regardless of their backgrounds, come together to celebrate the universal values of joy, unity, and the enduring human spirit.
This Diwali, allow Black Tulip Flowers, Qatar, to be your companion in sharing happiness and joy. Our fresh Diwali flowers, delectable chocolates, and cakes are more than just gifts; they convey love and blessings. Celebrate the Festival of Lights with the beauty and sweetness that Diwali truly deserves. Discover our exclusive Diwali flowers, gifts and Diwali flower arrangements and create an unforgettable celebration for yourself and your cherished ones. May your Diwali be adorned with fresh blossoms and indulgent cakes' fragrance and delight. Wishing you a radiant and joyful Diwali.
Get 15% off using "NEW15" coupon code on first purchase flowers and gifts at Black Tulip Flowers, Qatar