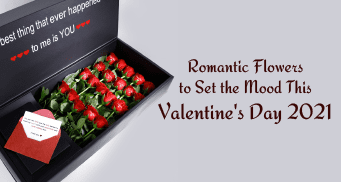 Romantic Flowers to set the mood this Valentine's Day 2021
Valentine's Day, an international day celebrated as festival of love and romance.
The real meaning of Valentine's Day is a celebration of that feeling called love, and the most celebrated is the love between man and woman (lovers).
Romance is closely related with flowers as the beauty and fragrance of flowers creates a romantic feel for anyone be it any flower.
Valentine's Day is also celebrated by couples even after being together for long years. This helps them to cherish this day till the next Valentine's Day.
Most people see this day as a more special day to propose love or move the relationship to the next level.
At Black Tulip Flowers, Qatar sending Valentine's Day Flowers Online is an easy job.
Valentine's Day Gift
We all start to plan for valentine gift early in advance as the day nears the flowers will be on demand. Also to get the fresh flowers we need to make our choice for the Valentines flower delivery well in advance.
The best gift for a Valentine's Day is Flowers. Since centuries flowers are associated with romance and their beauty set the romantic mood.
You can send flower delivery Qatar with Black Tulip Flowers Qatar which is easier than ever before.
Romantic Flowers
A thing of beauty is a joy for ever – which matches perfectly for Flowers. Flowers bring happiness and smile to one and all. Here are some flower suggestions to feel the romantic mood this Valentine's Day:
Rose
As per the poem a rose is a rose is a rose, even though all the roses are beautiful, Red Roses make the perfect fit to set a romantic mood to your Valentine as a gift.
Try some of our best rose bouquets and arrangements as Valentine's Day Red Roses for your valentine to get into the romantic mood:
Beautiful as you
Cute Red Roses in a Box
Cupid Heart arrow inspired
Hand Bouquet of Perfect Love
Tulip
These boldly colored (red, purple, yellow, etc.) flowers are the next choice to Roses as they are also considered as a symbol of love.

Tulips are strongly associated with love and red tulips are the best choice for Valentine's Day proposal.
Orchids
Orchids symbolizes luxury, love, beauty and seduction. These can also a make best choice for a romantic Valentine's Day gift.

A white orchid will make a perfect Valentine's Day gift for the girl you are engaged with.
Peony
Associated with romance, Peonies also makes the best choice for a Valentine's Day bouquet for her to flirt alongside your partner.

Express your love to your spouse and show how important they mean to you in your life by sending Valentine's Day gifts for her which is simple and easy.
Black Tulip Flowers Qatar, takes this chance to wish you all a Happy & a Romantic Valentine's Day!
Visit us online to see our full product range and make use of our deals & code and avail discounts on your online Valentine's Day gift delivery in Doha this Valentine's Day.