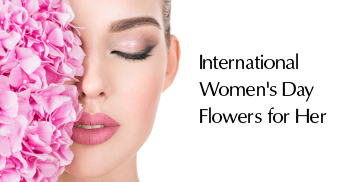 International Women's Day Flowers for Her
Women's Day
IWD – International Women's Day is celebrated around the globe on 8th March as an appreciation for the achievement of women in various fields.
We all live in a world, which revolves around women, from mother, wife, sister, friend, or daughter. Women make our world very special with their presence.
Appreciate the womanhood this women's day with flowers from Black Tulip Flowers, Qatar.
It is a day when women are recognized for their achievements and milestones.
Make your special women more special by sending International Women's Day flowers from Black Tulip Flowers.
Women's Day Tradition
The tradition behind the Women's Day celebration is to appreciate the achievement of women in every field by sending flowers.
Send women's Day flowers online to Doha for Her from Black Tulip Flowers to encourage and appreciate the achievement of the special women around you.
Women's Day Theme
To celebrate the achievements of women in various fields like politics, the financial sector, and social work a campaign theme is announced every year on International Women's Day.
2021's International Women's Day's theme is "Choose to challenge". Support the woman who always faces challenges in your community and appreciate them with flowers for Women's Day.
The focal point for the celebration of International women's day is equality for women in every aspect.
Show your respect and gratitude to the special women in your life by sending flowers on International Women's Day.
Women's Day Flowers
Sending flowers on a woman's day may seem a little clinch, but the bloom of the flower bouquet makes every woman cherish the moment.
The flowers associated with International Women's Day are:
Mimosa (especially in Italy)
Rose
Tulip
Lilies
Gerbera
Send women's day flowers on this International Women's Day from Black Tulip Flowers the best florist in Qatar
Basket of Light Pink Roses – A basket filled with light pink color roses which keeps the woman fresh
Cheerful Bouquet – A standard size consists of 15 stems orange rose, 5 stems static purple, 3 petals white phalaenopsis orchids, and a message card
Orange Tulips in Bouquet – a standard size will have 70 orange tulips.
Pink Lilies with Godiva – This consists of 5 stems pink lilies, 1pc. Godiva Coeur Iconique and a message card
Womanhood is to be appreciated all year long and not only on International Women's Day. Send the best flowers to her from Black Tulip Flowers, the online flower shop in Qatar.
Treat the woman in your family and community the same with gender equality to be an example to the world. Also teach your children from now on, how to treat women in their life.
Let us all support the woman around us by encouraging them to achieve their goal in their desired field and be a part of their success.
Visit us online to see our full product range and avail discounts for your online Flower Delivery Doha.