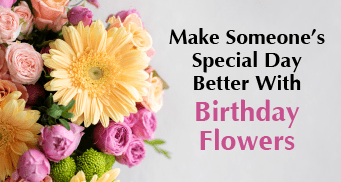 Make Someone's Special Day Better with Birthday Flowers
Do you want to make someone's special day better? Then you can surely celebrate special day with birthday flowers. More than any other occasion, birthday is the day to be bright and beautiful. You can surely gift the birthday flowers to celebrate someone's special day brighter. Whether it is to brighten up someone's day or simply just to enjoy some beautiful moments of someone's special day, birthday flowers are the best choice. If you are sending birthday flower bouquet coupled with chocolates and cake to someone's special day, it helps you to convey the right emotions and the right message.
Send Birthday Flowers Online
Nowadays everyone sends flowers as a standard gift on their dear one's or loved one's birthdays, anniversaries or any other occasions. While it is an impressive gesture, but when you are gifting flowers, it has been often observed that the quality of flowers is very important. If you're struggling to send the perfect birthday gift, we are here to help you, send fresh flowers online from the best florist in Qatar, Black Tulip Flowers. 
Rose Collections
Rose flowers are full of colour and fragrance and it's no surprise they are one of the most popular and best birthday gifts. Rose symbolises deep love, happiness, gratitude and loyalty, they play a vital role in myths and traditional stories from the era. So, a beautifully arranged bouquet of rose flowers would be the best choice for someone to greet on their special day. Treat him or her with the finest birthday flower bouquet from our online flower shop Qatar! Choose from our wide selection of birthday flowers and send anywhere in Qatar.
Bouquet of Red Roses with chocolates
Pretty Pink
Best Bouquet
Rainbow Bouquet
Hydrangea
Hydrangea flowers are also one of the best birthday flowers, they brighten up any occasion or event and they are one of the most popular birthday gifts ever! Nothing can be more joyful than the celebration of special day. So, a special day party deserves nothing but only the best gift. If you wish to send fresh flowers online to someone on their special day, log in to our online portal for more birthday flower collections from the best online flower shop in Qatar, Black Tulip Flowers.
Pink Proposal
Pure and Natural Arrangement
Lily
One of the best ways to express your emotions to someone by sending fresh flowers to them on special day. If you want to convey a special day wishes to someone, send them a box full of chocolates along with birthday flowers looks like a great gift and it helpful to convey your emotions. Send birthday flowers and best birthday gift from the best florist in Qatar, Black Tulip Flowers.
Lily Arrangement
Pure White
Mix Flower Bouquet
Everyone loves flowers and loves to receive flowers on their special day or any occasions, you can really make your gift into something beautiful and meaningful with our birthday flower collections.
You can find out more birthday flowers from our online portal from the best flower online shops in Qatar. Send fresh flowers online to someone on their special day and let them know how much you care and appreciate them.